Salam & Hiii!
*Ehems I am gonna try to start of every post with salam from now on, insyallah!;)
There's always a space for you to improve yourself to be better, yes?
So do it immediately after you sense/got it, okay?
:D
I am trying myself, so let's do it together!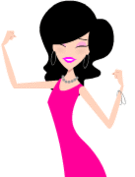 Anyhoo,
I was car-less today so I pretty much have nothing to do at home..
well actually I do, but I just had to escape from whatever I was doing cuz I was feeling a tad crappy today.. :3
..and being me- as usual, I would put on make up every time I am stressed out about something;
even if I am not going anywhere;
Hehehe.
But today!
I played around with different colors than the usual ones I would go for!
I mixed the purple base with a hint of pink at the crease,
but after I blend it all it looks like different shades of purple which is cool!
Hehehehe.
The famous trick to make your eyes look bigger?
White eyeliner.
;)
Nope, no fake eyelashes.
Just my recent mascara - you can read the review
here!
Maybe next time I'll try playing with orange shades!
What do you think?
(:
Not quite sure where can I wear this kind of look..
What do you suggest?
...and, tutorial? Yes? No?
..so, can you tell by now what's my favorite color?
Talk to me!
Blog again soon!
Stick around :]