Hiiii!
So last month,
Jojoe got me few things from The Body Shop; which is great cuz I rarely would get things from The Body Shop...now I find it a bit weird how I would always go to there but ended up not getting anything teehee.
This particular body butter is now on my list of my May Favorites!
One thing about me - I love body butters.
Pretty much cuz I have really dry skin, so I prefer body butters compared to normal lotions cuz I think it works better.
But one thing I hate about body butters is that they're always so sticky :3
So I could only apply body butters at night before I sleep which is kind of sad cuz body butters always smell so nice!
..that's the reason why I love this one :]
It feels like a normal cream & after you apply it on it doesn't leave the sticky feeling on your skin - ahhh, awesome.

Plus any products with either pomegranate or passion fruit scent can never go wrong.

..but then again, we all have our favorite kind of scent.
Heee.
It smells really sweet & fruity (obviously) & sometimes it makes me feel like I applied melted candies on me
nyehehehe.
As much as I love the smell, I won't apply it everyday cuz it can get too sweet at some point.
It definitely worked wonders for my skin,
it hydrates my skin nicely.
...three stars out of five?
or maybe four!

All in all,
Me Gusta.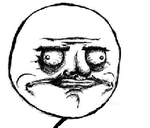 Blog again soon!
What's your favorite product of the month?
:]